Looking to remotely lock and unlock your doors? You want a 'smart' lock. Control your own home ecosystem via a smartphone or tablet. 'Next generation wireless 'ecosystems' such as Z-Wave or ZigBee allow home electronics, like a Yale lock, to speak to one another and to the user via 'remote control'.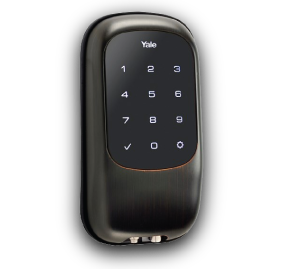 Yale Keyless Deadbolt
Experience 'real living' possibilities –
Yale Real Living touchscreen and push button locks work with a variety of wireless home security or home control systems. Simple low power energy waves travel through walls and floors and wirelessly communicate with devices enabled with a radio module. Enabled home electronics can be unified into an integrated wireless network, with no new wiring and no complicated programming, through a wireless controller 'hub'. Receive notifications when loved ones arrive home safely or check lock status remotely when away. You can even create custom schedules that only allow entry during those times. Owners experience a new type of 'real living' when the lock becomes the first point of contact for security and home control.
There are two main types available:
Wi-Fi locks offer more functions (like being able to see whether your door is locked in real time).However, they are inherently less safe because they're always connected to the Internet.
Bluetooth-only locks offer more security, but at the expense of features.Bluetooth also tends to cause a lot of minor but annoying lag in the unlocking process.